Coming off the heels of the Super Bowl, you feel as if the next championship feeling isn't going to be until March Madness starting next month… But is that the case? NO! NASCAR. The Super Bowl of the NASCAR season, the Daytona 500, is this Sunday, and if you were ever considering giving racing a chance now is the time.
There is no other sport (to my knowledge) that starts their season with the biggest event of the season. That is what the Daytona 500 is. This is the race drivers dream of winning their whole lives.
"Big whoop, it's just cars going in circles for three hours." Incorrect. I would love to see any regular Joe climb into a stock car and go around a 2.5 mile track at 200mph on 31 degree banking 200 times and try not to crap their pants. What these drivers do is nothing short of incredible. The knowledge and power it takes to handle these machines takes plenty of athletic ability. And the risk… Well, the risk is pretty large. One wrong move can lead to disaster for not only you, but everyone else on the track.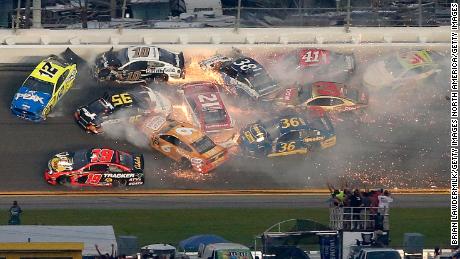 Plus, there are so many drivers you can hitch your wagon to and cheer for. There are the former champions: Kevin Harvick, Kyle Busch, Brad Kesolowski, Martin Truex Jr. There are the seasoned veterans: Ryan Newman, Jamie McMurray, Ricky Stenhouse Jr. (aka Wrecky Spinhouse). And there are TONS of young guys who are sure to be making noise: Chase Elliot (son of Bill, current defending champion), Ryan Blaney, William Byron, Alex Bowman.
Oh, and there's Bubba Wallace, driver of the #23 car owned by Michael Jordan. Yes, THAT Michael Jordan. Do I have your attention now?
You also have access to drivers unlike any other sports' athletes. Interviews pre, during, and post-race. Drivers are always out and about interacting with fans during race weeks at local sponsor establishments, at their trailers, in the infield, everywhere.
If you like to gamble, the thrill of betting on a race might be unmatched, especially the 500 where anything can happen at any given time. Right now, here are the favorites to win (via Barstool Sportsbook App):
Denny Hamlin (last year's winner) +800
Joey Logano +900
Chase Elliot +1000
Ryan Blaney +1200
Kyle Busch +1400
And if you're not sure of a winner, you can also bet on Top 3, Top 5, and Top 10 finishes to give yourself some cushion.
NASCAR is a great sport with a lot to offer, and it is not just on Sundays, and it is not just 1 series! You have the Truck Series and the Xfinity Series, both sort of serving as the "minor leagues" of racing. This gives you NASCAR to watch all through the week sometimes. All racing is good racing, and it goes on until NOVEMBER. You officially have plans for a while!
So this weekend, give it a try! Pick a driver and follow them! Tucks on Friday, Xfinity on Saturday, and the Daytona 500 on Sunday. A weekend of racing is upon us!